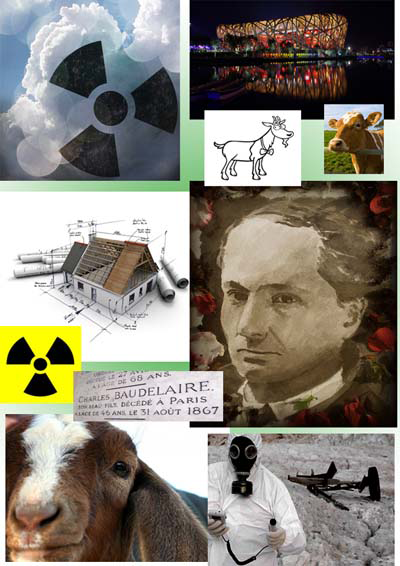 Image credits: "Nuclear/Sky" by Truthout.org; "Bird's Nest Stadium from across the pond (2)" by oopsilon; "Happy Goat color page" © 2012 Coloring pages for kids; "Cow" by wwarby; "Real Estate Client Referrals Construction" by RealEstateClientReferrals; "Charles Baudelaire" by seriykotik1970; Radiation warning symbol (public domain); "Charles Baudelaire's Grave in Cimetière du Montparnasse" by gseven; "Goat" by HeyThereSpaceman; "Nuclear Winter Recon" by Vermin Inc. All images CC BY-NC unless otherwise noted.
Collage by Jasmina Damnjanovic

Letter to the Reader
Dear Reader,
It is our pleasure to bring you the inaugural issue of the NU Ideas academic journal, a peer-reviewed, multilingual, and interdisciplinary online publication produced by an editorial team of Nagoya University graduate students and published by Mei Writing.
The articles published in NU Ideas are the results of the scholarly efforts of graduate students and professors from Nagoya University. Our goal is to help a cross-section of Nagoya University researchers share their work with a broad audience. Although the current issue features only a small number of articles, it is, nevertheless, a diverse body of academic work. You will find articles in Chinese, French, German, and English, in fields ranging from linguistics to microbiology. Thus, this journal is a truly multilingual and interdisciplinary publication that represents the wide range of cutting-edge research being carried out in Nagoya University's academic community.
We think you will find the articles within interesting, enlightening, and even motivating. The value of a multilingual interdisciplinary approach is that it can provide fresh, unique perspectives on a variety of important issues. We hope this diversity can help you view your own research in a new light. We believe such diversity can inspire a wealth of new ideas.
Sincerely,
NU Ideas Editorial Staff
Isabelle Bilodeau
Jasmina Damjanovic
Thomas Kabara
Shylaja D. Molli
Kanako Morita
Chad Musick
Zhang Lin
Contact NU Ideas:
nuideas@ilas.nagoya-u.ac.jp